The brief
As head of web and content for Mitsubishi Motors UK, I led the design, development and content strategy for the UK website, winning several awards, supporting multi million pound marketing campaigns and building a content library visited by tens of thousands of visitors per month.
What i did
Web Design
Web Development
Content Strategy
SEO
My role was diverse, with responsibility for improving organic visibility, designing and building shopping tools and supporting a range of online initiatives from across the Mitsubishi business.
I planned and created a range of content, successfully growing the organic audience by over 70% from 2017 – 2020.
From news, to guides and educational content on subjects as diverse as hybrid technology to a guide to towing.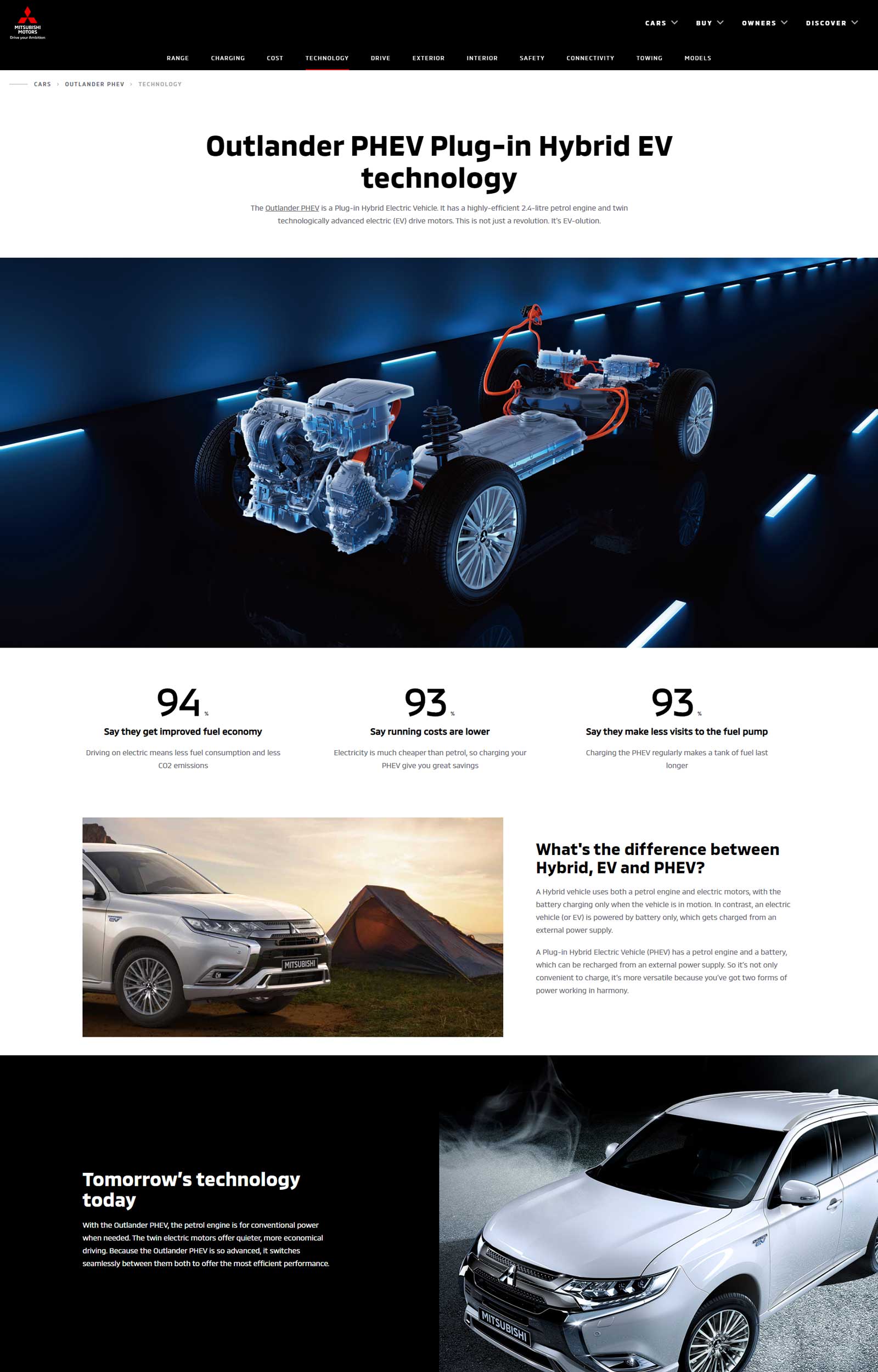 I also supported the delivery of huge  marketing campaigns with a range of  tactical and brand messaging.
I built relationships with third parties to enable more diverse content, from user reviews with Reevoo to used Mitsubishi models with AutoTrader.
All this work was grounded in good user research. I created personas and planned customer journeys to ensure each type of visitor found what they wanted.
I used analytics tools, user testing, A/B variants, AI services and more to measure engagement and improve performance.
I also employed my creative skills to a range of projects, from creating model artwork, to supporting messages with custom infographics and video. 
Not to get technical…
During my decade at Mitsubishi I took the website through a number of iterations, embracing new technology and design patterns. 
One of the first automotive sites to be fully responsive instead of offering a seperate mobile version, I put Mitsubishi ahead of the game as smartphones rose to become the most popular to browse online.
Customer focussed 
I put the focus squarely on the customer at a time when the value of doing so was far less understood. I considered it part of my role to try and educate colleagues on the value to giving users as the most direct route to achieving long term business goals. 
Buying a car online
I designed the UI and planned the online journey that became Mitsubishi's pioneering online retail platform, making us one of the first automotive manufacturers to offer a complete purchase of a new car online.
About Mitsubishi Motors UK
Though they sadly no longer sell new cars in the UK, Mitsubishi Motors was an early pioneer of the electric car revolution with one of the first electric cars in the UK in 2009 and the best-selling plug-in hybrid from 2014 – 2020.